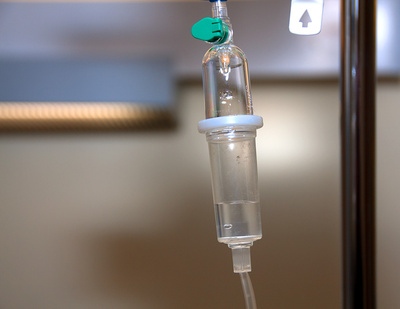 In einer Pressemitteilung vom 11. Juli 2017 berichtet Valerion Therapeutics über den Start einer neuen Studie. Das neue Fusionsprotein VAL-1221 soll in der Lage sein, Glykogen auch außerhalb der Lysosomen (im Cytoplasma) Glykogen abzubauen (wir berichteten). Erste Ergebnisse der Studie seien im vierten Quartal 2017 zu erwarten. Laut ClinicalTrials.gov hat die Rekrutierung von Patienten der späten Verlaufsform im Vereinigten Königreich (The National Hospital for Neurology and Neurosurgery, London) begonnen.  Als weiteres Studienzentrum wird das Duke University Medical Center in den USA genannt.
Valerion verweist auf Erfahrungen mit der derzeit verfügbaren Enzymersatztherapie, bei nach einer anfänglichen Verbesserungen langfristig wieder eine Verschlechterung des Krankheitsbildes mit Speicherung von Glykogen im Cytoplasma eintrete. Hier erhoffe sich Valerion eine verbesserte Wirksamkeit:
"After a brief period of modest improvement with currently approved treatments, nearly all patients with late-onset Pompe disease resume their downward trajectory in skeletal muscle and respiratory function in association with accumulation of glycogen in the cytoplasm," said Deborah Ramsdell, CEO of Valerion. "While current Pompe disease therapies are directed only to lysosomal glycogen, VAL-1221 has demonstrated in preclinical studies the potential to uniquely target and clear both lysosomal and extra-lysosomal glycogen in the cytoplasm. We look forward to reporting top line data from this study in the fourth quarter of this year."
Die Patienten-Community begrüßt, dass in der Studie neue und möglicherweise verbesserte Behandlungsmöglichkeiten untersucht werden:
"The Association for Glycogen Storage Disease (UK) is excited by the potential benefits promised by this novel therapy, to improve the lives of individuals and families living with Pompe Disease," said Allan Muir, Development Director, The Association for Glycogen Storage Disease (UK).

"Pompe is a very debilitating disease often leading to a loss of limb mobility and breathing function so serious as to require the use of wheelchairs and full time respiratory support, in addition to terrible and constant pain. Pompe dramatically limits quality of life in most patients, and in its most severe forms, can even be fatal," said Maryze Schoneveld van der Linde, Pompe patient. "Significant unmet need exists for a variety of new therapeutic options that offer the potential to treat all Pompe patients."
Weitere Informationen
Hinweis: Dieser Beitrag dient der Information und nicht der Werbung. Durch die Nennung eines Unternehmens machen wir uns nicht automatisch Produkte, Therapien und Aussagen des Unternehmens zu eigen. Für Fragen der medizinischen Versorgung sollten die behandelnden Ärzte konsultiert werden.
Bildquelle: © NicoLeHe / pixelio.de